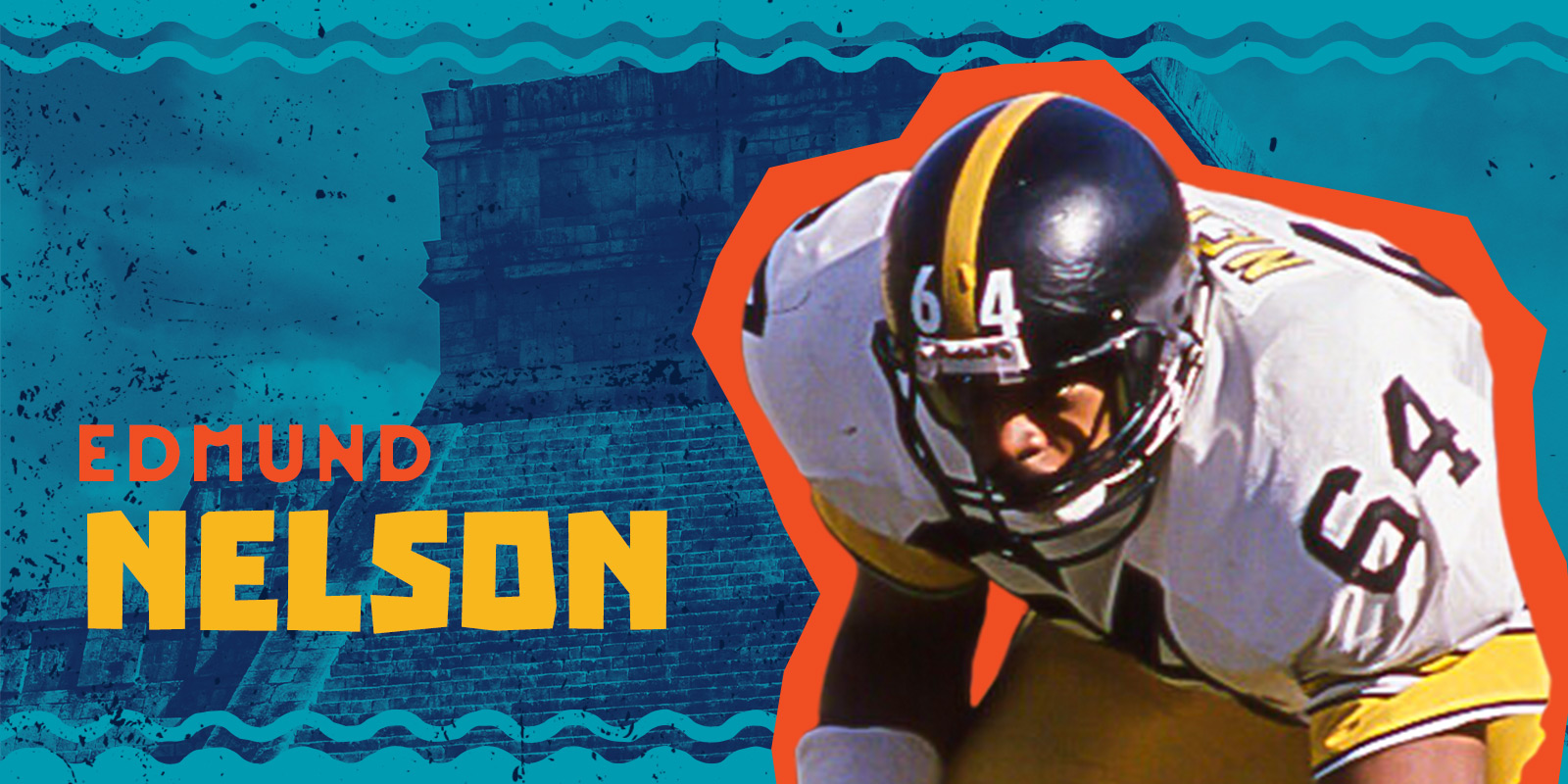 Edmund Nelson: Steelers Defensive Linebacker
Edmund Nelson was a force to be reckoned with on the football field — the type of player every franchise wanted on their team. But off the gridiron, he's always been known as a gentle giant, whose kindness and humor make him someone everyone wants to be around.
Pre-Steelers Play
At 6'3″ and 270 pounds, Nelson spent his career as one of the best defensive linemen in the NFL. Born in Live Oak, Florida, he played football at C. Leon King High School, where his consistent and dominant performance earned him two All-State selections.
Admired for his exceptional strength, speed, and agility, Nelson went on to play college football at Auburn University, where he was a two-year starter and played from 1978 to 1981. During his time as a Tiger, Nelson earned a reputation as a fearsome linebacker, racking up impressive stats and receiving numerous accolades, including the Cliff Hare Award and the Shug Jordan Award his senior year. He was named to the All-SEC team twice as a key contributor to the Tigers' defense, making him one of the top defensive linebacker prospects in the 1982 NFL Draft.
Turning Pro with Pittsburgh
The Pittsburgh Steelers selected Nelson in the seventh round of the 1982 draft (172nd pick overall). Nelson's rookie season saw him playing primarily as a backup linebacker, learning from veterans like Hall-of-Famers Jack Lambert and Jack Ham, two of the best to ever play at their positions, as well as legendary defensive coordinator Dick LeBeau. It was the perfect setting for Nelson to develop his own style and become a formidable force behind the Steel Curtain.
He played for the Steelers for seven seasons and racked up 16 sacks and 4 fumble recoveries during his career. His consistent play and leadership were instrumental in the success of the Steelers defense during the mid-1980s.
A Leader On and Off the Field
Nelson signed with New England in 1988 and played as a Patriot for one season before retiring.
Nelson was well-liked by his teammates and coaches for his work ethic, positive attitude, and willingness to do whatever it took to help the team succeed. His leadership qualities made him a respected figure in the Steelers locker room.
Following his NFL career, Nelson worked as a high school football coach, helping to shape the next generation of players. He also transitioned into broadcasting, working as a color analyst for Steelers pre-season games and as a co-host of the KDKA-TV's regular season pre-game program Steelers Kickoff.
Long-Lasting Steelers Legacy
Edmund Nelson's legacy as a Pittsburgh Steeler is one of hard work, dedication, and perseverance. Those who know him call him a great player, a great teammate, and an even greater human being. He now lives in Pittsburgh, where he owns and operates an insurance company and devotes his time to charitable causes including working with underprivileged youth.
From his all-state performances in high school to his memorable winning career with the Steelers, Edmund Nelson has left an unforgettable mark on the sport of football and in the hearts of the fans of the Black and Gold.
Welcome Aboard, Edmund Nelson!
The Legends of Pittsburgh Vacation is excited to welcome Edmund Nelson to our 2024 lineup!